What's in my NOW?
This week is all about paper and printed products: namely notebooks, zines (old and new), and books, of course.
Read on!
---
What's in my NOW?
I participated in this week's edition of the Cool Tools What's in my NOW? newsletter, edited by the magical and multi-talented Claudia Dawson. It's a weekly list of one person's things that are influencing their present: 3 physical, 2 digital, and 1 invisible.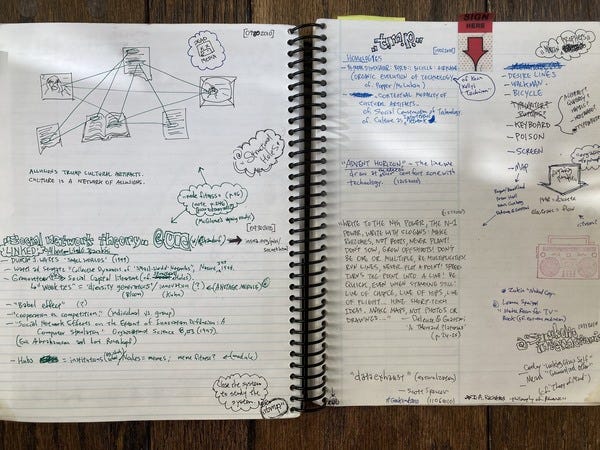 I included these great Bienfang Notesketch notebooks. I work on paper as much as I do on screens. I even make my own notebooks. If given the choice, Bienfang Notesketch paper is what I would use for every one. It's half-ruled—sometimes half the page vertically, sometimes half of it horizontally—and it's perfect for hashing out ideas of all kinds.
---
Flashback:
wow&flutter
In 1997 I put out a zine called wow&flutter [.pdf]. It was an attempt to merge two of my main musical interests at the time, turntablism and experimental noise. I interviewed DJ QBert, DJ Spooky, John Duncan, and Daniel Menche, and reviewed records from the rapidly expanding releases of ambient, noise, and turntable artists. I lived in Seattle at the time, and there was so much going on in all of these areas. There were regular live events and several specialty stores, and I tried to bring them all together under the banner of sound experimentation.
wow&flutter was intended as the first of a series, but the second issue, attack&decay, featuring interviews with Jack Dangers of Meat Beat Manifesto and Warren Defever of His Name is Alive, among others, never made it to press. I still love the idea of noise and hip-hop coming together, and there are others who've merged them in the meantime better than I could have imagined (e.g., dälek, clipping., Ho99o9, Death Grips, Cloaks, Justin Broadrick and Kevin Martin, et al.)
It's been 25 years since its release, but maybe it's worth another look. Download this .pdf of the first issue, and you'll see the seeds of future projects like my recent books Dead Precedents and Boogie Down Predictions.
---
ICYMI:
discontents
This summer I returned to my roots and made a zine with some of my old zine-making friends. The pilot issue features stories on Ceremony, Hsi-Chang Lin a.k.a. Still, and Unwound; interviews with emcee Fatboi Sharif, Coherence director James Ward Byrkit, and Crestone director Marnie Elizabeth Hertzler; pieces by Cynthia Connolly, Spike Jonze, Andy Jenkins, Timothy Baker, Greg Pratt, and Peter Relic; cover art by Tae Won Yu, layouts by Patrick Barber and Craig Gates, and drawings by me, Zak Sally, and Marcellous Lovelace.
It's 50 solid pages of good stuff about good stuff! Get yours: discontents is still available from Impeller Press.
---
MY BOOKS: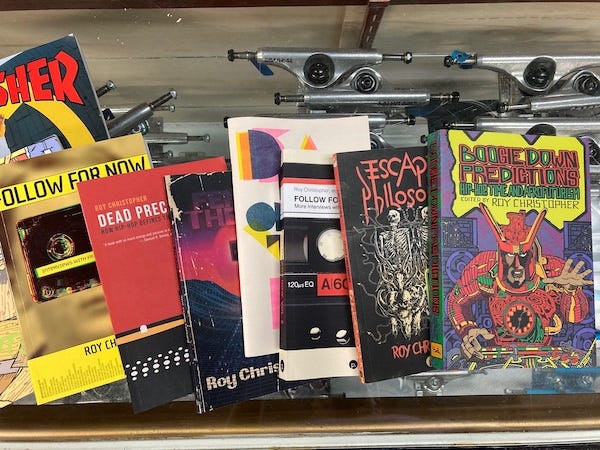 I redid my website, and now there's a page for all of my books (pictured above at Reset Mercantile in Dothan, Alabama) and a page for each of them. All of the information about each one is available there now. If you haven't already, cop your copies. They also make great gifts!
---
Thank you for reading,